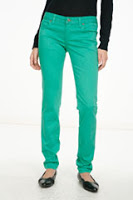 An Open Letter to Urban Outfitters
Urban Outfitters,
Hi guys, just a quick note to see if you are all okay. I am concerned because I just saw an email promoting these. Did you realize that you were selling neon teal skinny jeans? Since it is not the 80's, I have to assume that this is related to some sort of malicious plan to destroy America via ugly denim. The hipster thing was bad enough, now you really have gone too far.
I can say this because I myself am a survivor of the Wet-Seal colored jeans with matching shirt epidemic. My favorite pair were bubblegum pink bongos in size zero. I weighed about 90 pounds back then and those terrible jeans somehow managed to make me look hippy. Those were dark blinding days. Let's not go back.
Best,
Emily