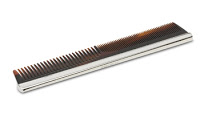 Things I Love Today: Fancy Combs
I inherited a silver vanity set that belonged to my great grandmother as a Christmas present this year. There's not room for all the pieces in my tiny and distinctly sans-vanity-table bathroom, but I have kept out the comb and have been using it daily. It is about 7 inches long with tortoise shell along the bottom, silver on the top and a nice heft. Combing my hair each morning seems much more fun now versus with the comb I was using before. It's a great way to start the day.
My comb is closest to this modern sterling comb from a British jeweler for about $80. eBay has a lot of antique combs for sale and they're pretty affordable. RubyLane has a good selection, too. I think an antique comb would make a lovely birthday gift, maybe when packaged some fancy things from L'Occitane.