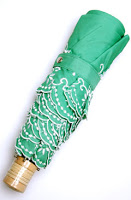 Bargain Finder: $16 Eyelet Umbrella
This umbrella is so fun that it almost makes me wish for rain…well, almost!
Urban Outfitters has two versions of the umbrella: in green with white eyelets and another in white fabric with black eyelets. I think they would make a great Easter present for a friend or deluxe favor *pun intended* for guests at a wedding or baby shower.