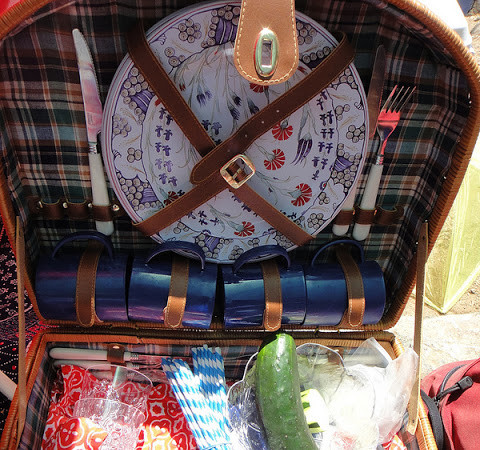 Party Recipe: Summer Picnic
Here are all the details on our 2nd Place picnic for this year's Mountain Play. Next year, we're definitely taking home the gold! I've already started planning for Sound of Music.
Decor: Red, white and blue was the color scheme. We used four tablecloths that matched the colors on top of inflated sleeping pads to make the stone steps comfortable for sitting.  I fancied-up the picnic basket my dad bought be a few years ago with new Mottahedeh tin plates – an awesome purchase, so light and pretty.  Plus, new plastic cups and bowls designed to look like crystal, red and blue platters, bike napkins and paper straws.  Even the knives and bottle opener matched the theme. Red dahlias in a jam jar as a centerpiece. The awesome guests all dressed accordingly in their finest red, white and blue attire.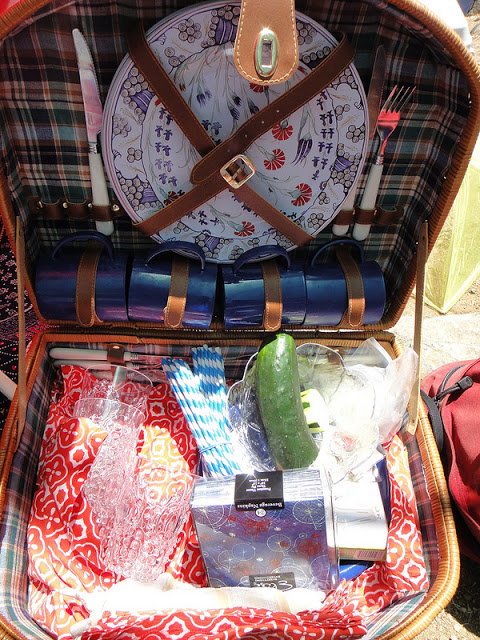 Food:  We had SO much food.  I brought three cold roast chickens, 6 loaves of pain epi bread from Acme, a massive orzo salad with lemon basil, watermelon, smoked trout, cream cheese, dill pickles, radishes, truffle mustard, caper mustard and jalapeno jelly.  Greg & Kevin contributed a white peach and tomato salad and a fennel arugula salad.  Seth & Amy brought an orzo salad with brussels sprouts, fresh fruit, a cheese platter with truffle cheese, pastrami and salami.  Rebecca & Kevin brought a kale, mango and avocado salad and strawberries. Jordan & Paul brought fruit skewers and a tabouli salad.
Amazingly, we ate almost everything!  The super enthusiastic bike riders in our group (pictured below) made a huge dent after their 25 mile climb.
Drinks: My favorite trick is bringing empty glass bottles to fill at the top of the mountain. It gets really hot, so you end up going through gallons. This year, we did one with fresh mint and another with cucumber and lemon. We also served cold rose, sparkling blood orange soda and 21st Amendment beer.
Dessert: Margaret topped off intermission with adorable berry shortcakes served in mason jars. She made the poundcake from scratch to top with strawberries, blueberries and whipped cream.  Portable and delicious!