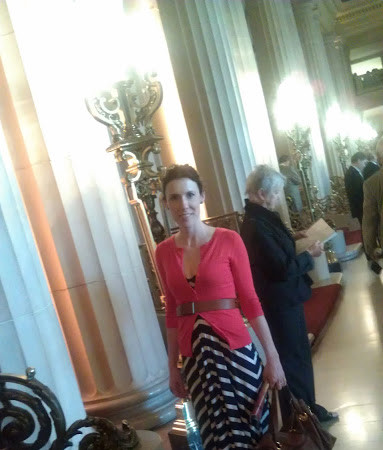 Weekend Round-Up: Theatrics
I officially became an "award-winning" picnicker this weekend! On Friday, Rob and I went to see Verdi's Attila at the opera. It was too hot to change out of my maxi dress and sandals from work.
This was exactly the kind of opera I love: 135 packed on stage including a children's choir and corps de ballet, crazy over-the-top sets, a strong Italian bass lead named Ferruccio Furlanetto, a love triangle and murder. Subway home at 10:30 (a short one).
Saturday, the weather was even warmer. After sleeping in, Rob and I walked down to meet Nicole at the Ferry Building. Bought some apricots, cherries, lemon basil and picnic supplies on sale from Sur La Table. We had a quick lunch up on the viewing deck.
Up at 7:00 on Sunday – super early. I packed up the car and Kevin came by to get a ride. We stopped for fresh bread from Acme on the way to pick up Margaret. We made it to Mount Tam exactly when the gates opened at 9:00 to grab a primo spot in the shade. We set up our picnic spot and had breakfast of pastries while reading the Sunday paper.
Before we knew it, it was 11:00 and time for the picnic contest. We rushed to create a pretty plate for the judge with the various salads and meats. More details on the picnic spread later!
The gang started arriving soon after, and with them – more food! We fed 2-year olds and hungry mountain bikers with a grand California feast:
The play, Music Man, was great. Lots of strong singing and dancing with clever rotating sets. We brought out the berry shortcake jars during intermission.
We ended the day taking home 2nd place in the picnic contest!