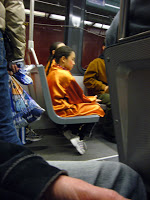 Weekend Round-Up: Sun and Fun
The weather was so nice last weekend! Anytime the temperature rises above 60 degrees San Francisco turns into a wonderland of parks, outdoor cafes and happy sunburned locals in flip flops.
After our traditional Friday night date at home and leisurely breakfast, Rob and I drove out to the archery field to soak up the rays. We met our friend Matt there; he was just back from a trip to India and had lots of stories to tell. Everyone shot well and we headed home after a few hours. At five, Rob and I took the subway downtown to the Chinese New Year parade. Our train was full of a troupe of elementary school kids in orange robes with rouged cheeks:
We found a great spot to stand on Kearny Street for the parade at 6:30. High school marching bands, local politicians, fourth graders in pig costumes sewn by their mothers, approximately 400 dancing dragons and fireworks galore. I love a good parade! The Chronicle has more photos online.
Rob brought me the Sunday paper the next morning! I stayed in bed and read the paper from cover to cover. That was a perfect morning made even better with a pedicure at noon! When I got home, Rob and I took the train out to West Portal. We walked around the shady eucalyptus forest in Stern Grove park:

And went to see Pan's Labyrinth (so unexpectedly sad and gruesome, but good). When we got home, I put together my new recipe journal and prepared for the week ahead
!