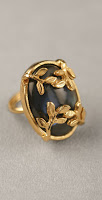 Coveted: Rachel Leigh Rings
I included this affirmation ring in a What to Wear outfit a few weeks ago and have been obsessed ever since. Wouldn't it be gorgeous paired with a delicate spring dress? Shopbop.com has fourteen Rachel Leigh rings including this one for sale. Each with bold gems, designs from nature and bright gold.
At $60 to $90 a piece, they're an affordable little splurge to welcome spring into your wardrobe.