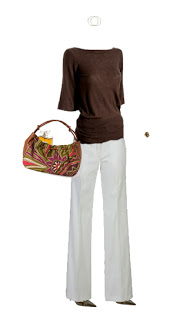 What to Wear: Impressing an Ex
I have been getting such great shopping challenges from you guys this week! We have another urgent request today, this time from Sarah:
I have a clothing dilemma that I'm hoping you can help with. I'm having dinner with my ex from high school next week after work. We kept in touch during college and saw each other fairly often, but he has been on the East Coast for the last 3 years and just moved back a few weeks ago. Everything that I've tried on seems to give off a "I'm trying too hard to look good" vibe that I want to avoid. I want to look mature but not older than my age (25).
How stressful! What a great opportunity for a shopping spree! Here's my perfect after-work power outfit for Sarah:
Sweater – Flattering kimono style sweater is all business in the front but has a flirty deep v on the back. Pair it with a lacy cami underneath. Club Monaco is a great resource for this sort of top.
Trousers – White pants from FCUS.
Shoes – I have these shoes and love them.
Purse – A somewhat affordable bag from Anthropologie!
Earrings – Basic gold hoops add to the long and lean look.
Ring – I love, love, love this ring.
Perfume – This definitely requires Chanel No. 5.
My favorite thing about this outfit is that it exudes "yes, I dress this fabulous every day." Effortless, slimming, chic and stylish. Sarah is going to knock him dead!