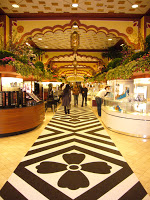 Inspiration: Macy's Flower Show
Rob and I went to Macy's last night to look at the "Imagine India" flower show. I thought last year was good, but this year really blew it out of the water.
The entire store had been converted to an Indian temple. It is incredible what they did with a few flowers, a couple saris, some styrofoam and paint. Have a bright and colorful Easter weekend!