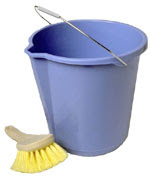 Spring cleaning fever continues to rage in our apartment! I'm no Martha Stewart, but I have a basic checklist for airing out the apartment after a long winter. Even though Rob and I have a housekeeper who comes once a week, there are still a lot of jobs that need my attention a couple times a year.
Here's what I've done so far:
Clean all baseboards and molding (this takes forever in a San Francisco Victorian apartment)
Scrub walls with magic eraser sponge
Clean all window, framed art and mirror glass
Throw out stuff in "junk" drawers
Flip the mattress and eradicate dust bunnies
Clean papers off of the desk
Organize pantry
Clean medicine cabinet
Unpack summer clothes
Put away winter tweed and wool clothing
Purge closet of unwanted clothes and organize remaining
Buy flowers for the table
Take inventory of house needs and measure
Spend $100 at to the Container Store
Buy new furniture
Pick out paint colors
And here's what I still have to do:
Paint!
Install new furniture
Take old clothes and other donations to thrift shop
Take shoes to cobbler for repair
Host a clothing exchange party for other unwanted clothes and shoes
Clean the refrigerator
I can't believe how much I've already cleaned over the last few weeks. Go me! What do you include in your spring cleaning ritual?