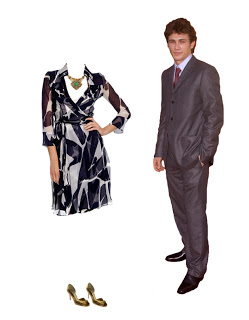 What to Wear: Spiderman 3 Premiere
Holy cow, the shopping challenges are crazy good this week! I can't believe new-reader Emily's request:
I am going to New York for my first time next week. My husband and I were invited to the premiere of Spiderman 3. I'm typically not that 'hollywood' so I have no idea what to wear. We're basically going to be part of the James Franco entourage, as dorky as that sounds. I feel like black formal is overdoing it because it's a comic book movie. Maybe something springy and fresh and fun. We're also going to the after party so a change from heels to flats or something might be in order. This is the first time I've ever done anything like this and I want to feel confident.

As far as budget goes, do you think we can do it for under $500? I generally don't wear sleeveless/tank tops just because I'm not a fan of my arms, but other than that I'm open to anything. If you have time to help that would be GREAT.
Dorky?! Being part of a famous actor's entourage hardly qualifies as dorky in my book. Let's get to it for our clearly delusional reader!
The key to fitting in with fancy Hollywood (and New York) types is to not look like you are trying too hard. You can always spot the outsider on the red carpet in what looks like a prom dress. I did a little research, and the event is fairly casual. My goal was to make Emily look like a fabulous stylist who just effortlessly threw the perfect outfit together:
Dress – It's a little bit of a budget buster…but soo gorgeous and timeless and be-sleeved and great for someone with tan skin, green eyes and shoulder length dark hair. Diane knows how to dress real women. And she's worth $365.
Necklace – Find a vintage statement piece. This one is $84, but your local antique store may have something cheaper.
Shoes – Ties in with the gold on the necklace and adds a bold flair to the outfit. $88. Switch to basic gold flat sandals for the after party.
Get your hair done, get your make-up done, get a spray tan, and then live it up. Have a fantastic time in New York, Emily. Send us a photo!