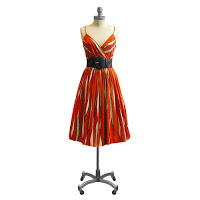 What to Wear: Spring Dress
The weather could not be any more perfect today. It is all sun, tulips and small children out in San Francisco! Completely unexpected for this time of year and perfect for a fun spring dress like this red and white Steve Madden version.
I got to enjoy the sun today during a short visit to the neighborhood ER with my co-worker who hurt her leg. After she was checked out and fitted with crutches, we grabbed lunch from the adorable Courtney Produce II market.
This is the kind of gorgeous day that makes you wish you worked at the corner produce market (wearing that red dress, of course) instead of inside an air-conditioned office.