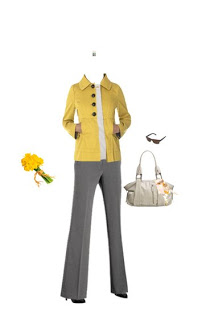 What to Wear: Cold Spring Day
My gosh, it is cold today. Our warm spring weather in San Francisco has disappeared. It even rained yesterday. Too far on the calendar to wear tweeds…too cold to wear spring brights, what's a girl to do? How about toss her current wardrobe and stock up on lovely new bargain pieces:
Sweater – In warm cashmere.
Pants – In classic gray garbadine.
Jacket – $40 from Target in that perfect yellow color.
Purse – From the Angie & Lola collection at Target.
Earrings – From Anthropologie.
Pumps – It has been embarrassingly long since I had a pedicure.
Scarf – From Forever21.
Note: For the time being, I am not going to be taking any new What to Wear requests. Just too darn busy with city living and wedding planning. I'll be trying to clear out the queue and still doing one now and then. Once things settle down, the WTW's will probably return. Thanks for understanding!