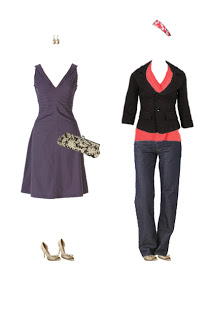 What to Wear: Yosemite Wedding
Mary just discovered EmilyStyle.com this week. And just in time, she has a major shopping challenge coming up:
I'm going to a wedding in Yosemite on May 12 and have no idea what to wear. The wedding is from 11 a.m. to 3 p.m. or so, and then we break for a few hours to rest and recuperate before joining family and friends at a campfire.

So really, I need two outfits– a dress & accessories for the wedding, and something to wear to the campfire that night. It's my husband's brother who is getting married, and my husband is the best man. He'll be in a dark brown tux and I'll be sitting with him & his family, all who are somehow in or involved in the wedding so they'll be dressed pretty formally. I don't know if I need to match the level of formality or at least step it up a notch?

I'll have lost about 30 pounds when the wedding comes along–a size 12 down from a size 16 so I'd like something that shows that off a little bit (but I'm still a size 12, so I feel that limits me a bit!). I'm on a bit of a budget and can spend maybe $250-$300 altogether.
Mary sent a photo of herself with the request. She's got a great figure, perfect skin and a cute blonde bob. Fitting all these clothes into a $300 budget was challenging, but I think I did it:
Dress – The is the most important piece! I've been coveting this dress from Anthropologie but I think I'm too scrawny to do it justice. At $148, the color, price and cut is perfect for Mary.
Clutch – Adorable brocade and only $15!
Earrings – $38 freshwater pearl drops from Anthropologie.
Shoes – Mossimo pumps in light gold from Target. $20.
Blazer – Black eyelet jacket from Forever 21. Can double as a cover up with the dress if needed. $20.
Henley – For $24 from Delias.
Jeans – I didn't include these in the calculation because Mary probably doesn't need to buy a new pair.
Shoes – Depending on how formal this campfire will be she can either stick with the pumps or switch to flats.
Headband – $18 from Urban Outfitters.
Final total: $263! Armed with these two outfits, Mary will be ready for anything that comes along at this wedding. Plus, she'll have a lot of fun new wardrobe pieces after the event.