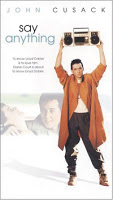 Weekend Round-Up: Sleeping In
A little fun, a little rest and a little exercise add up to a perfect weekend in the city!
Rob and I walked home from work on Friday night, stopping at a used bookstore to buy a hostess present. At 6:30, we took a bus up to the Fillmore for dinner with friends from work. This was part one of a "Thai Challenge" to see whose favorite really reigns supreme (theirs was good, but I think ours can win!). In a bizarre coincidence, our friends from Tahoe were also eating at the same restaurant that night. After dinner, we all returned to our host's apartment to play Wii. Taxi home around 11:30.
I slept in a long time and stayed in bed with a book even longer on Saturday morning. When I did get out of bed, it was only to watch Say Anything and grab a cup of tea. At one, I took the train downtown for the Macy's sale. I really killed at this sale, buying $300 worth of dresses and tops for $130. It started to rain and I headed home with an it's-it as a snack. I was exhausted! Rob put together our new bookcase and we had a quiet dinner at home.
Sunday morning was another marathon sleeping-in and reading session. At noon, Rob and I took our tandem bike out to the park. We had lunch at the de Young (fantastic chard and basil soup!) while watching an adorable baby crawl after pigeons. We walked through the Vivian Westwood exhibit and then pedaled back home for some errands and chores. Rebeca came over later that night to trade some unwanted clothes. Too fun!