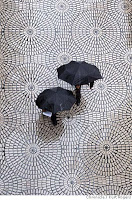 Urban Girl Alamanac: Flood Advisory
When will it stop raining? I'm getting tired of bundling up like an eskimo. And since I haven't been motivated to do my daily walk to the grocery store, we've been stuck eating bean tacos. Here's what I learned this week:
Designing my own wedding invitations is going better than I thought it would.
The club ladies have some great recipe ideas.
How on earth did the producers of Moment of Truth manage to make it sooo boring? I could only watch a couple minutes before turning off the TV.
It's fun to watch California freak out when it snows.
For some odd reason, I've only needed 5 hours of sleep each night this week.
Pinto beans require more seasoning than black beans.
Turtleneck + dress + tights + boots = warmth.
I discovered how to make envelope liners.
Say hello to the newest LAC chapter in Avondale, Florida! We're up to five by my count.
"Bliss on Toast" is my new favorite saying.
This weather has put a damper on our weekend plans. It was my plan to have a super girly weekend with Rob to make up for last weekend's adventures. Going to Gump's, shopping for china, getting pedicures, watching Juno and having a candlelit dinner. We'll see if we can even manage to leave the house. Have a great weekend!