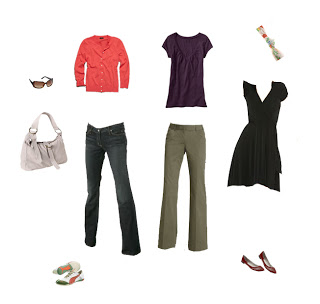 What to Wear: Traveling Europe
I did a three month European tour in college, it was so much fun to see France, Italy, Spain and Greece by rail with my rucksack. Reader, Ashlynn, is heading across the pond with her husband next month:
You always have fabulous ideas for what to wear to events so I have one for you. My husband is taking me along on one of his business trips to Europe for 2 weeks. We will be visiting 8 countries in the 2 weeks – so tons of airplanes, trains & driving. I want to dress cute, but I need some comfortable shoes & layers for if an airplane gets too cold or too hot. What do I wear? What do I pack?
How exciting! When you have some serious traveling to do, it's good to pack basics and mix and match pieces. And pack light! You'll want to boost your wardrobe with new things you buy over there:
Sweater – A bright cardigan can be worn with anything.
Jeans – A very "American" thing to wear but also extremely versatile.
T-shirts – Bring a couple in dark colors for layering.
Trousers – I have a pair of grey trousers that have been to four continents! Can be worn with sneakers for the day or pumps for evening.
Dress – A non-wrinkling basic in black jersey. Good for day or night.
Sneakers – A comfy pair of puma sneakers will get you through all eight countries.
Flats – Take at least three pairs of shoes with you and rotate daily.
Tote – Big enough for your tour book, camera and journal.
Scarf – Accessories are easy to pack and help you feel fully dressed.
Sunglasses – A must have.
Add some extra tops, a bikini and a light jacket and Ashlynn will be all set for her big adventure!