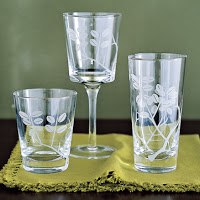 Things I Love Today: Botanical Glasses
This heat wave in the city has me dreaming of warm evenings spent with cool drinks. Evenings that are very, very rare in San Francisco! In particular, I am dreaming about these botanical wine glasses from West Elm filled with the Blueprint recipe sangria.
We don't have a garden, but we do have a nice back parking area that the downstairs neighbor has fixed up with a container garden. I wonder if I could fit an outdoor chaise back there?