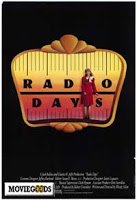 I'm on such a Woody Allen kick lately. I watched Radio Days last night. I can't believe I had never seen or heard of this particular film before.
Classic Woody characters and full of gorgeous 1940's sets and costumes. With wallpaper and pattern coming back into style, a lot of those designs look pretty fresh. Loved the music, loved the sets, loved the actors, loved this film.
PS: Did you realize that Seth Green plays the young woody character in this film? Bizarre.