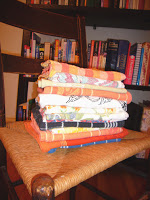 To Do: Give Up Paper Towels
Living in San Francisco, Rob and I try to be good little environmentalists. We recycle, we buy organic food, we walk to work and take public transportation. Don't be too impressed, it comes really easily in this green city!
There's one environmental thing we do that I'm really proud of: Rob and I don't use any paper towels. I don't think we've bought a roll for a couple years. Instead, we use cloth dishtowels that get washed in the laundry each week. It's pretty easy and kind of fun!
What do you think? Could you live without paper towels?