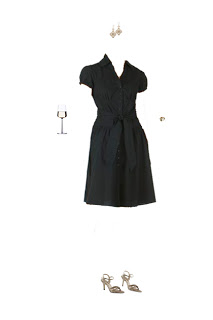 What to Wear: Academic Dinner
JD wrote in with a fun request for an academic dinner party:
Here is my dilemma: I am a full-time mother of four young children and have very little time to worry about fashion. I am lucky if I get a haircut once in a while! My husband is in a Ph. D program in Boston and has invited me to attend an evening gathering of students and faculty in May where they will be eating dinner and presenting their research. It will be held in a professor's home and will be somewhat casual since all spouses/significant others and (well-behaved!) children are also invited.

Before having children I also attended graduate school and worked for several years, but now my life is so different and I have a hard time switching worlds for such events. Do you have any suggestions for escaping my current wardrobe of jeans, t-shirts and sneakers for something more sophisticated looking, yet keeping within our graduate student budget (under $75)? I am about 5'4″ and a size 14/16. Thanks in advance for any advice you can give!
That's one tight budget! But JD is clever (and a good seamstress). Here's my recommendation:
Dress – A basic black shirt dress is feminine and attractive. This one is $27 and highly reviewed at Target.
Earrings – Pretty dangle earrings for less than $5.
Ring – A little sparkle for your finger for under $5.
Sandals – Only $40. You could also do a darling pump or wedge with this dress.
Final total: $77. Add on a bright sweater and some spring make-up and JD will be ready to hob-knob with academia.