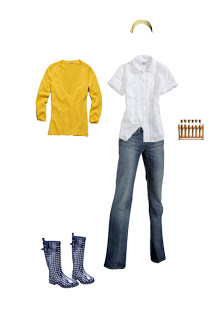 What to Wear: I am a Scientist!
Rob and I are going to Tahoe this weekend to visit friends. They're living in an adorable old cabin with a hot tub along the Truckee River for the next few months. Our plans for the weekend include rock climbing and helping to take water samples from the river for an environmental study. I get to play scientist (and dress like one too)!
Shirt – A basic cotton blouse with ruffles from American Eagle on sale. The picnic shirt I blogged about a few months ago is also on sale.
Sweater – Cashmere? Why not! Also on sale.
Jeans – Necessary leg protection from icky things like ticks and snakes.
Boots – Polka dot rain boots from Target for $20.
Scarf – Adorable and practical.
I'll also be bringing lots of sunblock and my new mini iPod loaded with The Dandy Warhols singing "Scientist." What do you think Jean and Sara? Do I look like a real scientist? 🙂