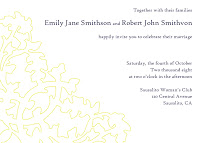 More Wedding Invitation Ideas
I've been playing around with that oak bracket pattern some more and came up with three different invite design ideas (yes, those are fake names).
I still feel like they are too plain. Probably because I can't visualize the letterpress texture. I'll try a vertical layout or some more variations of the oak pattern. What do you think?
Design A: Outline on White

Design B: White on Yellow

Design C: Yellow on White

At least I have a lot of time to experiment!