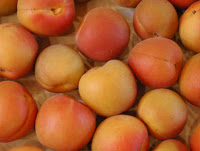 Things I Love Today: Apricots
By my estimate, I had sixteen perfect sweet apricots in the last 24 hours. No matter that it is really cold out, it feels just like summer to be barefoot at home with a mouthful of apricot!
Safeway currently has the tiny, delicate apricots that are so good. They're packaged in clear boxes with red handles for extra safety. These are the kind that you can barely look at without bruising. The kind that are exactly two bites. The absolute antithesis of those baseball sized sour things they usually market as apricots.
Yum…I'm resolved to eat five more when I get home.