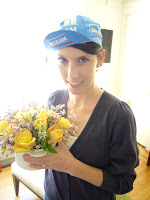 Weekend Round-up: Kobayashi & Friends
This weekend felt really long for some reason. Maybe it's because we traded our normal routine of exercising for new adventures. Not a single bike ride, kayak or climb all weekend long!
We had a quiet Friday night at home with dinner of really good chicken and zucchini tacos and Deja Vu on DVD. We turned in early because we had to get up Saturday morning at 7:30…to buy our new car!
Rob and I drove in the Miata out to Vacaville to pick up the new gray Honda Fit! We got a great price thanks to Rob negotiating with dealers by email all week long. This is the first time either of us has bought a brand new car; we were really excited and nervous. After about 2 hours of test driving, paper work and hand shaking, we hit the road back to San Francisco.
We've decided to name the car "Kobayashi," as in small Japanese character that can hold an amazing amount of stuff.
Back in the city at 1:30, I barely had time to help Rob get the cars parked before zipping off to the subway. I met Calie downtown for a shopping trip at 2:00. We found some really awesome sales (BCBG is a must hit) and had a great time hanging out. Calie is awesome! I can't believe that we managed to shop for 4 hours straight.
When I got back to the apartment at 6:30, I was fully exhausted. I motivated just enough to go to Safeway for groceries and party supplies. I managed to make a few quesadillas with the leftover chicken from Friday and a big fruit salad. We tried to turn in early, but our loudly snoring next door neighbor (not piano man) kept us up late.
Sunday morning! Rob and I woke up pretty early to get a head start on cleaning the apartment. While Rob did dishes, I made a hearty breakfast of French press coffee, Irish oatmeal (I accidentally got the kind that takes 30 minutes to cook) and blueberries. At 11:00, we took the Miata to get detailed and took some glamor shots by the park. Poor little Miata, I'm really going to miss it.
Back home again at 12:30, just in time for a run to pick up fresh baguettes for the party. I spent a few hours leisurely chopping, cooking and cleaning which was really relaxing. The photo is of me in a bike hat with my "French" floral arrangement. At 4:30, our guests showed up! We had a fantastic time watching the tour. I'll post something separately all about the party.
The party ended at 8:30. We did some dishes and picked the rest of the trays clean for our dinner. Whew. Just writing about this weekend makes it feel even longer. I've got a busy work week ahead, so look for fewer posts than usual!