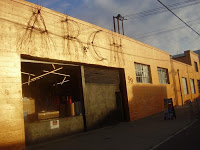 Things I Love Today: Arch
I love finding an incredible new store in San Francisco. Today's discovery is Arch on 18th and Missouri. This art supply/drafting store is so amazing.
There's a cute little boston terrier named Otto who "works" there. They have all sorts of fantastic art and paper supplies, even those little model trees that I am now obsessed with buying and putting on my desk.
The also have a gift area that pretty much has the coolest things ever. Little wooden figures, totes, books, sculptures, soaps…everything. And you get a free tote bag with your purchase! To boot, they're located across from a tofu/bean sprout factory and the whole street smells really good.