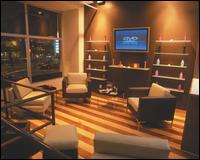 First Time for Everthing: Tanning
I told Nicole about my Pink Cornflake diagnosis (What we will henceforth call Pityriasis Rosea. More descriptive, easier to spell, funnier) last night. Her ears perked up when I mentioned that my doctor recommended tanning as a treatment. She used to tan in college, before modern medicine and I convinced her to stop. I'd never tanned before, in the sun or in a salon.
One quick Google search later and we were in the lobby of Tan Bella down the block. Being San Francisco, this was of course a deluxe tanning spa unlike any other. The owner put us through a 20 minute lecture on the science of tanning and the benefit of low UVB machines before we could even start.
I did 8 minutes in the high pressure bed standing up, trying not to fall over from the disorienting towel wrapped around my face and goggle combo. With the purple lights and the heavy fans I felt like I was either being microwaved or sent into orbit Nicole went for 12 minutes in the lie-down machine.
I don't have much of a tan today, my skin is sort of light pink all over. But my rash is a little better and slightly less itchy! I'll go back once more this week and see what happens.