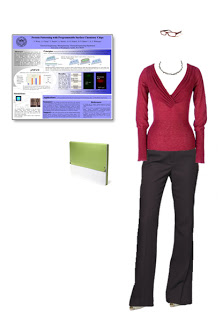 I'm so happy that it is fall. Layers are back and I can't wait to unpack my tweeds. Here is Amanda's request:
I'm an engineering grad student and have a "prelim exam" coming up where I present my research to a panel of faculty members, some of whom I've never even met. (Bonus: This is the part where they decide if I'm good enough to stay in the program.) What would be a stylish and confidence boosting outfit which still gives off a professional/scholarly vibe? Preferably one with flats, since I'll be standing for an hour.

Not that my wardrobe will end up being the main focus of this presentation, but I still want to look good. If it matters: Light brown shoulder length hair, 5'9" ish and I normally wear glasses with maroon frames.
As soon as I read this I had visions of corduroy jackets with elbow patches and argyle sweaters. A full costume of academia! Fortunately, I stepped it back to something that will still be young and fresh for Amanda:
Sweater – Click the link to see this sweater on the model, it's darker and lovelier. I think a little cleavage is fine. You can pair it with a cami for extra coverage.
Pants – Basic brown trousers will get you through a lot things like this. I think pants are a better choice than a skirt or dress for this crowd.
Necklace – My biology-grad-student-sister is wild about Moma's DNA strand necklace. It's geeky and attractive.
Shoes – Wedges give you comfort for all that standing and a little height for confidence.
Folder – From See Jane Work.
Trench – Not pictured. Nothing makes me feel more confident than a sturdy trench.
It's feminine, authoritative and a youthful. Perfect for a smart student like Amanda!