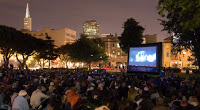 To Do: Film Night in The Park
Except for maybe one or two times a year, San Francisco is always cold at night. Which is why I find it sort of hilarious that the city is so adamant about outdoor evening activities.
We have opera in civic center, shakespeare in the park, countless evening concerts and shows. Each event requires ample packing, a big picnic and plenty of down jackets.
One outdoor event I want to try again is Film Night in the Park. We went to see "It Came from Outer Space" a few years ago in the Presidio. On August 4th, they're showing Annie Hall in Union Square. I can't wait!