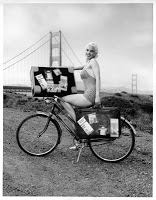 Urban Girl Almanac: Vive la Tour
It's been a nice, balanced week. The weather is warm and the Tour's on TV. It feels like summer (that and the 4 pounds of cherries, cantaloupe and apricots we ate this week). Here are some things I learned:
The San Francisco Library photo collection feels like a yearbook for the city. This photo is of "Miss Boomer" from 1957.
A bowl of cold bing cherries and a glass of white wine makes for a perfect cocktail hour.
I love the Tour de France.
I kind of want this somewhat odd dress from The Sartorialist.
Orange blossom perfume is good for summer.
I need to do some home sprucing this weekend and buy new towels and curtains.
It's frustrating when a caterer is a little down on on your wedding venue.
The apartment behind ours is finally occupied again, which means I need to be better about not walking through the living room partially clothed.
Dinner parties are wonderful.
I wish I didn't talk quite so much when I am nervous.
Commuting on a tandem bike will earn you some funny looks.
Casual Friday = my favorite pencil leg jeans, a red knit swing top/dress and peep-toe wedges.
It's going to be nice and warm all weekend! Rob and I don't have too many plans already, thank heavens. I think we may go to Sonoma on Saturday and I plan to sleep in as much as possible.