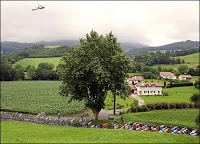 Tour Fever: French Countryside
One of my favorite parts about watching the Tour de France is seeing all the picturesque European farms and villages they ride through. Here's the complete map of the race.
The little barns, the sunflower fields, the churches, the cows. Some of these teeny towns are so perfect, they're almost unbelievable.
It would be fun to bike the route myself someday. Of course, probably not the mountain stages and definitely not doing 150 miles per day.