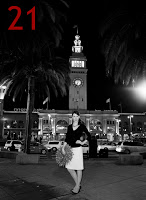 Advent Calendar: December 21
It's the final advent calendar post and time to reveal this year's holiday card photo! It's tradition each year for Rob to stage a picture of to send out with our Christmas cards. We took the picture this year in front of the Ferry Building downtown. This was actually the very last shot on the roll of film.
Last year's card was pretty cute too. Next year, we'll be married and he'll make his first holiday card appearance!