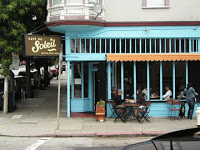 Urban Girl Almanac: Mixed Bag
This has been a crazy week. I can't believe my accidental date was just this last Monday. Here's the lessons I learned this week:
Foreign Cinema's lavender creme brulee is a thing of beauty.
My negative review of Smokin' Aces is almost identical to the New Yorker's.
Organizing the closet helps with rediscovering long lost clothing favorites.
Walking a mile and a half to work is great exercise and helps you wake up in the morning.
Trader Joe's cocoa almonds are so tasty.
If you are visiting San Francisco, you can rent this place near my neighborhood.
Physical therapist = sadist?
I can't believe I watched (and was really moved by) the CMT tribute to Reba.
I love everything about changing the sheets. The process is kind of meditative and you end up with a perfect, tightly made bed. Especially fun with thick thread counts and L'Occitane lavender water.
This site gets high rankings on the strangest google terms. Welcome searchers for Leslie Caron, tulipiers, tea at the garden court and lhasa apso embroidery patterns.
Daffodils!
I booked our tickets to North Carolina in March. Any hot tips from Carolinians?
Dark indigo blue shadow works really well as eyeliner for blue eyes and dark hair.
Listening to Radio Alice and Live 105 at work puts me in a good mood.
I'm kind of glad the rain has canceled a few of my weekend plans. All I have on deck is a night at the movies to see Catch and Release The Last King of Scotland on Saturday. I hope to spend a lot of time in bed with a cup of coffee, a book and Chris Isaak (the ideal January music) on the radio.