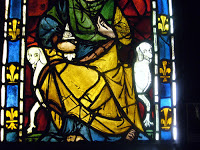 Paris je t'aime: The Cluny
This will be the final post in my week of Francophilia. And it works nicely as a transition into the barrage of holiday posts that will inevitably begin on Monday.
Located in the Latin Quarter, the Cluny Museum houses a select collection of Renaissance art and artifacts. It would be easy to be overwhelmed by this particular period of history, but the museum does a good job of featuring only a few pieces for maximum appreciation. The unicorn tapestries are the most famous but I particularly liked the stained glass displays.
In a few dark rooms, they have a handful of stained glass panels lit from behind and at set at eye level for maximum appreciation. I really loved the expressions on the dogs, sheep and hens. In that setting each color and piece of glass shone brightly and it reminded me of Christmas.