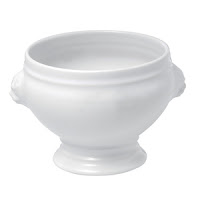 Paris je t'aime: Onion Soup
It must be true what they say about French women not getting fat, I lost a few pounds of my own during the Paris trip. It must have been all the walking (and the expensive food prices) because it certainly wasn't my diet. Loads of bread, butter, cheese, pastries, nutella, whole milk, etc.
My first meal in France was a big bowl of onion soup with lots of melty gruyere and bread. I had it almost everyday from then on. It was the perfect remedy to the bitter cold weather.
I think I'll make onion soup for dinner sometime this weekend following the Williams-Sonoma recipe. I just need the fancy bowls to match!