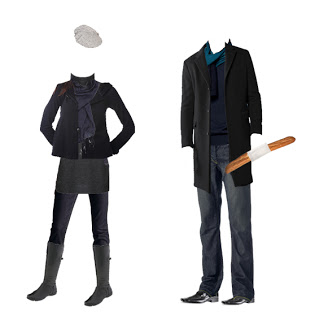 What to Wear: Parisian in November
As you might have noticed from my photos, my travel wardrobe for Paris pretty much revolved around black and gray. I'm glad I packed so dark because quite literally wearing any color at all immediately distinguishes you as a tourist. Everyone in Paris wears a strict uniform of black, gray, denim and maybe a little cream. The result is that even large crowds of people look remarkably color coordinated and elegant. If you want to dress like a true Parisian, here's a guideline:
Femme
Sweater – Tunics and cowlnecks were both big.
Jeans – They seem to love the Gap in France, I think it's because they have better things than the US version.
Boots – Absolutely everyone wore boots everywhere. It was amazing how many boots they had for sale. The Frenchie-Payless store where I bought mine had at least 35 different styles for sale.
Coat – With lots of volume.
Scarf – Always a must have when it's that cold out.
Hat – They loved these floppy beret beanies.
Homme
Car Coat – Every man in Paris seems to have a nice wool coat like this. Worn with the color flipped up in the back, of course.
Jeans – A nice mid-wash pair.
Sweater & Scarf – Navy blue…a pretty risque variation from black.
Pointy Shoes – This one seemed odd to me, but they really rocked it.
Baguette – It was adorable to see men "bringing home the bread" after work. No bag, just a napkin to carry it home.