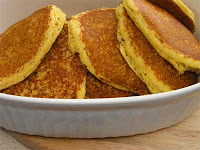 Party Recipe: New Year's Day Brunch
It's not so much that I've forgotten about Tuesday's party…it's just that I haven't really given any thought to it lately. Time to get cracking!
After ringing in the New Year at Bottom of the Hill watching our friend's band play (if you're in the city, you should come too!), we're having 10 or so friends over for brunch the next morning. The party starts at 11.
Food
Mini Salmon Bagels – These were a big hit at a previous brunch dinner. Toast up mini bagels and then top with cream cheese, smoked salmon and capers as an appetizer.
Gingerbread Pancakes – Based on the pancakes at Zazie. Possibly made the day before and warmed in the oven. Served with lemon curd or maple syrup.
Bacon and Sausage – Kept warm in my silver chafing dish. I'm not making eggs because they're impossible to keep hot enough.
Fruit Salad – Served in my new crystal champagne saucers.
Drinks
Coffee – And lots of it, served in my silver heated pot.
Orange Juice – Straight up or with champagne.
Bloody Mary's – I love them with pepper vodka, celery and olives.
Decorations
White tablecloth, charcoal gray napkins, green and white bouquet. If we take down the tree this weekend, I may keep out the pear green glass balls for table decorations. New Year's Resolution mad libs (you can download my templates here, here and here to use at your own party if you'd like).
Favors
If I have time (and with the terrible weather, it looks like I'll have plenty) I'd like to try making a batch of Tartine Bakery rochers. They'd be pretty wrapped in tulle with a bow.