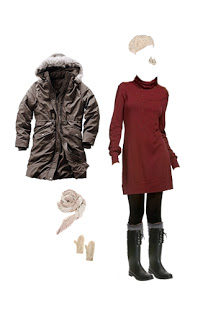 I'm not much of a skier myself, but I do find the apre-ski part appealing. Here is Faith's request:
I'm heading to Vail with friends for New Year's Eve and I need help figuring out what wear out at night. I'd like to stay warm and dry (what type of shoe do I wear in snow?) and look charming without putting it all out on display! I can't really pull off the skinny jean tucked into a boot, but most other looks work well on me.
Have a little fun with your outfits while on vacation! I recommend playing up the ski resort style a bit with pieces you can mix and match later:
Dress – Cozy knit turtleneck dress on super sale from Macy's.
Boots – Lace up rubber boots are an adorable and affordable (only $24) alternative to more ridiculous furry apre-ski styles. Pair them with cute socks like these sparkly angoras.
Parka – This wooly bully is only $39 from La Redoute.
Scarf – Extra flair and warmth.
Mittens – They're lined with Thinsulate for extra warmth.
Earrings – In wood instead of metal to prevent frost-related discomfort.
Beret – Cozy and cute.
Stay warm, Faith!