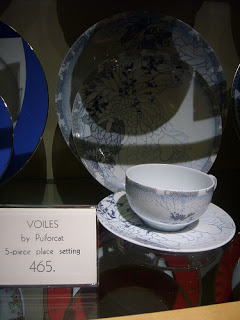 Wedding Wednesday: China Reprieve?
All is not lost! I just realized that the price tag I had paired with my dream china is actually for the pattern to the left. The $465 Voiles by Puiforcat isn't what I like at all.
Now I just have to track down the real price for that china pattern. Keep your fingers crossed that it isn't even more expensive!
Update: YAY!!! It's a Gump's miracle! I called the second floor saleswoman and she looked up the price. Only $215 a setting! I'm ecstatic!
Update II: It's called Rêve Bleu from Royal Limoges and the only link I can find about it is from some Italian home magazine. (#4)