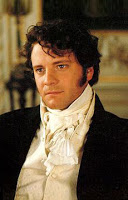 Things I Love Today: Colin as Darcy
I was watching Pride and Prejudice on PBS on last night and once again struck by Mr. Darcy's brooding stare. Honestly, I think I could watch all 300 minutes back-to-back-to-back forever…much to Rob's chagrin.
Maybe this will be my plan for keeping entertained in the nursing home at 98. Yes, that's exactly it. Breakfast in bed, silk pajamas, cashmere blankets and chain viewing of P&P!