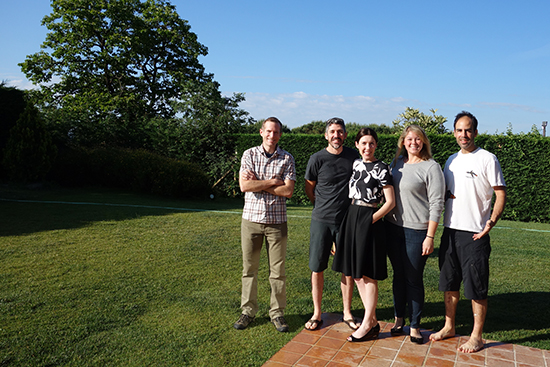 Taking a Day Trip from Spain to Perpignan, France
We had a lovely night at our equestrian estate in the Montseny valley. Our host at Rural Can Vila took a pre-breakfast photo of the whole gang.
Big spread of pastries, cereals, hams, cheese, cornbread, jams, yogurt and fruit along with lots of cafe con leche for breakfast in the dining room.
The boys took off for their last day of biking. We watched the horses run about for a bit and then loaded into the car to head to France for the day. Shane had never been to the country – so it seemed like a fun adventure to end his European trip.
It's just about 90 minutes to drive to Perpignan across the border – with no passport checks. Adorable villages dot the hillsides along the way. It's amazing that just 100 miles away from Barcelona the border towns in France are so completely French! Those are the snow covered Pyrenees in the distance, I think.
We made our first stop to the Palace of the Kings of Mallorca. The town has turned the castle into a combination museum and arts venue.
The chapels here had a strong Moorish influence, good for our transition to Morocco this week.
We popped into a cozy Breton cafe for lunch of cidre and massive buckwheat crepes filled with "stinky" cheese. So French!
We wandered around the town a bit after lunch. It has a pretty canal running through the middle and a mix of swanky shops. A few places still observe siesta here and the street signs are in both French and Catalan.
Shane even saw his first authentic French protest.
We stopped into the main cathedral in town – which was all gilt and crystal chandeliers. So French!
The three of us walked around a bit more and picked up a big box of treats from a patisserie on our way out of town. The quick drive back into Barcelona confirmed just how much we like this city – it felt like returning home!
A bit of logistics once back in Barcelona. I deposited Lauren, Shane and our huge stack of luggage at a local cafe near our new apartment. The bartender was extremely nice about it! Then, returned the slightly damaged rental car and walked back to our new neighborhood of Vila Gracia. The bike riders had arrived at the cafe and we quickly met our new apartment host and checked in. He shared a glass of wine with us and recommended a neighborhood bodega for dinner. We walked through busy plazas and kids filling squirt guns from ancient fountains to find the spot. Loaded up on rounds of vermut and Moritz beer along with dishes of olives, sardines, clams, ham, chorizo, roasted peppers and grilled octopus.