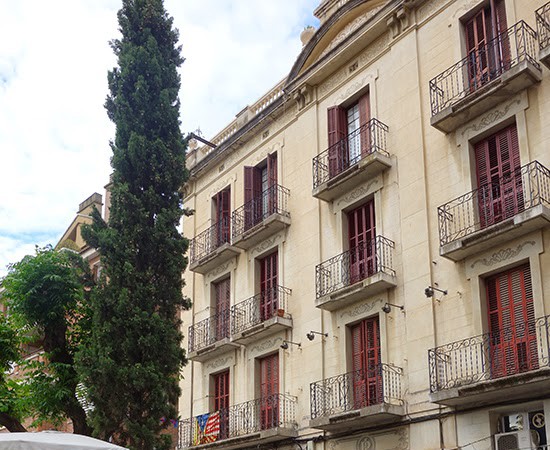 From the hot springs of Caldes de Montbui to the horse ranches of Montseny, Spain
Day 3 of our bike + drive adventure in the Catalan country outside Barcelona! The boys headed off after a breakfast together in the main plaza of Caldes de Montbui.
When the helpful staff at the Hotel Thermes Victoria spotted our bikes the day before, they offered to arrange for the non-riders to use the hotel's bikes the next day. So, without any plan or preparation – Lauren, Shane and I decided to ride to the next town over, called Sentmenat.
Despite several assurances in Catalan from the locals that it was so easy and would only take 15 minutes, we managed to get lost several times. Between our three mountain bikes, we had only two sets of gears, two sets of breaks and one suspension fork.
Where better to get lost though than among beautiful olive orchards, wheat fields and historic castles?
We stopped for a Fanta in Sentmenat and Shane made a new friend in this tabac shop. They had a 20 minute conversation about the upcoming Catalan independence vote – neither speaking the other's language really at all.
The ride back to Caldes de Montbui was much faster and we set off in the car for our next destination about 1:00.
We stopped in Santa Maria de Palautordera on our way to the Montseny valley to buy new brake pads for Matt's rental bike and lunch. Stumbled into a small garden cafe called Masia Restaurant Can Bonamic, at a property that has been a restaurant for over 100 years. "Bonamic" translates to good friends in Catalan – which was very appropriate because our host quickly became one of our favorite people in Spain.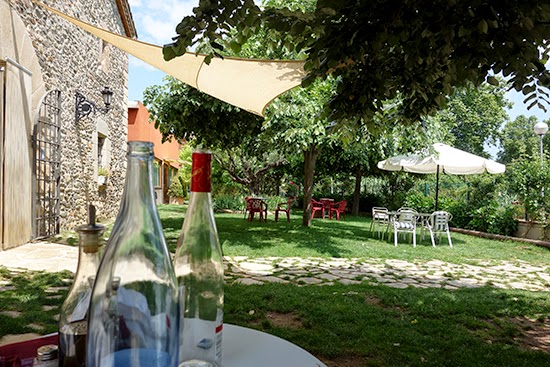 For $12 each, we had a three course meal with a bottle of local rose, interspersed with our attempts at a Catalan conversation about the San Francisco "gigantes" baseball team, our upcoming birthdays, the sights in the town and the food we were eating. Lauren had sardines, Shane had squid in tomato sauce and I had barbecued pork cheek for our main dishes.
Shane, Lauren and I grabbed a bottle of wine from the Torres vineyard tour and the capers we bought in Manresa and went straight to the pool. There's a view of the Montseny mountains in the back and the ruins of a castle to the right.
The pool felt ice cold at first, but the hot sun had us splashing in the water in just a few minutes.
We drove down the road for a casual dinner with the locals at the cafe in the tiny village of Les Margarides. Rob and Matt were exhausted! Assorted grilled meats, patatas and claras all around.