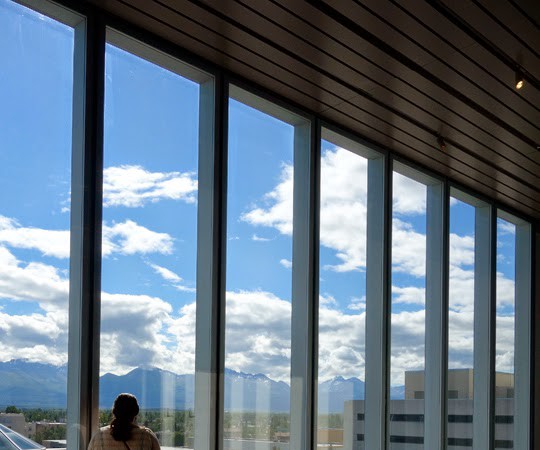 Welcome to Alaska: 24 Hours in Anchorage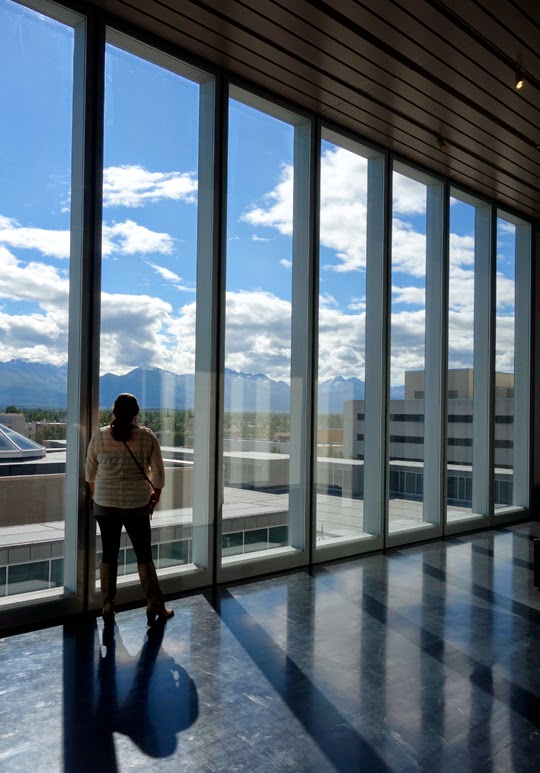 Rob and I flew in to Anchorage on Saturday morning after taking a pre-dawn taxi to San Francisco airport. Seth and Amy landed a few hours later and we were all picked up in an ancient blue van by the RV company. While the others spent that unavoidably long paperwork-signing hour with the RV man, I took an embarrassingly-public catnap in a pleather recliner. Finally, the adventure began! We walked down to the center of Anchorage to explore. The Saturday street market was just closing up but the reindeer sausage stands were still going strong.
Hot and mild reindeer sausages sampled from competing carts for our dinner. The vendor Rob and I chose grilled their onions in cola. The vendor Seth and Amy picked topped their sausages with a special sweet and spicy sauce. They were all equally tasty.
After our sausages, we walked over to Humpy's Alehouse for drinks and dessert. The famous berry cobbler was good, the whiskey bread pudding was divine.
Now getting close to 10:00 pm and the sun still blazing, we left the locals and visiting marathoners to walk back to the RV for the night. With 22 hours of daylight, sleep masks are a must for summer in Alaska in a bright RV.
The next morning, the boys went for a long bike ride on the 32 mile trail around Anchorage while we girls hit the "city." First stop, the Anchorage Museum with nicely done exhibits on plastic in the oceans, landscape and native arts.
So many beautiful native arts and crafts from around Alaska on display.
We made a brief stop at the small planetarium in the back of the museum to watch a very cheesy short film on the water cycle that ended with an extensive rap about evaporation. The museum gift shop was lovely, but we were ready for lunch! Amy and I walked across town to Snow City.
We tucked in to counter stools. Our blue-haired, wildflower-tattooed waitress was super fast in delivering a fried egg sandwich with bacon, cheese and herb mayonnaise and a plate of eggs benedict, one with a crab cake and the other with a salmon cake. It was all delicious, with the crab egg benedict the ultimate winner.
After lunch, we walked around the little local boutiques and art galleries for a while. An antique store was loaded up with old guns, baskets, ivory carvings and Russian Orthodox icons.
We stopped at the federal building visitor center, where they had a fun collection of Alaskan stereograms.
I loved the tiny Quilted Raven store full of Alaskan-themed fabrics, hand-dyed yarns, elk horn buttons and other trimmings. I'm not a quilter or a knitter, but was very tempted to learn both.
We all met up in the afternoon to make a grocery run for the RV. For dinner, Rob and I were invited out by an 89-year old family friend to Sullivan's Steakhouse. We had a big meal with a good bottle of wine and hilarious stories of San Francisco in the 1950's and traveling through Tangiers. Seth and Amy raved about their dinner with reindeer pizza and local beer at Glacier Brewhouse. After dinner, we left Anchorage and drove North toward Denali, stopping in Montana Creek for the…I was going to say night, but is it really night when the sun is out at 11pm?