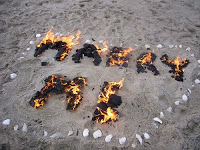 Happy Engagement Anniversary
Today is a special day. It is the first day of spring, Mr. Rogers' Sweater Day and Persian New Year and it is also the anniversary of Rob's proposal! He popped the question in fire while we were on a beach vacation in North Carolina. You can read the story here.
Rob is amazing. He's taught me to be so brave, to rock climb, to learn an instrument, to go camping, to ride a tandem bike, to relax and just be myself. He's the best camp counselor for life you could ask for! Together we make a great team.
In six months (on fall equinox as a random coincidence), it will be official!