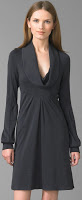 Things I Love Today: Bilboa Dress
This is my latest DVF dress acquisition: the Bilboa in a lovely olive green. They still have the dress, in white only, at Bloomingdale's. It was half off from a consignment shop with the tag still on. I'm hoping that the weather reports are right about it being cold and rainy later this week so I can wear it to work.
This dress joins my pink and black number from 2006 and my Casidy dress from 2007. One a year on super discount? Sounds good to me!