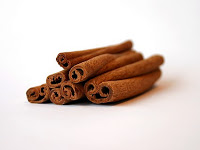 To Do: Cinnamon Ornaments
A friend of mine recently came into a great deal of cinnamon by accident. 36 bags worth thanks to a Amazon miscalculation.
I took a couple bags with the idea of making cinnamon ornaments (Did you also make them in preschool?). It's too bad valentine's day already passed, a spicy cinnamon heart would be cute. Would a cinnamon bunny, egg or flower be too odd for Easter? Maybe I should just keep it for next winter.