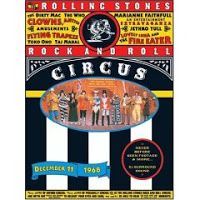 Party Recipe: Rock and Roll Circus
Want your next cocktail party to rock? Of course you do! All you need to do is pop in a DVD of the Rolling Stone's Rock and Roll Circus from 1968 and turn it up loud.
It is bizarre and infectious, with their hits played to a crowd decked out in matching ponchos and hats over a 24-hour period. Eric Clapton, John Lennon and others make guest appearances. I saw it on PBS, of all places, last weekend.
By the time you get to Jumping Jack Flash your guests will be doing their best Mick Jagger impersonations. It's a reason for a party in itself!