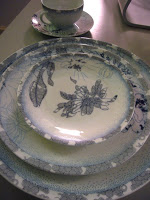 Wedding Wednesday: First Registry Package
Just in time for Wedding Wednesday, I received my first place setting of china in the mail! Rob ordered this for my Valentine's Day gift.
In true Gump's fashion, each piece came meticulously wrapped in folded tissue paper and bubble wrap with circles of gray felt to protect from scratching. Those ladies in the wrapping basement really know what they're doing. And the gift card enclosed was printed up on a typewriter! I can't wait to bring it home and take glamour shots for our registry photos.
Now we just need to buy a china cabinet to house our new goodies. Any suggestions?