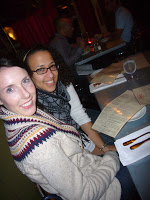 This was a luxuriously lazy weekend. At the end of last week being so packed with restaurants and bars, I was honestly ready to skip eating out for the next month.
On Friday, we met Matt at the climbing gym and did a lot of bouldering. I was exhausted when we left at 7:00. Dinner at home of a big salad with meyer lemon vinaigrette and a plate of toasted chick peas. We watched disc two of Freaks and Geeks which had thankfully reappeared at the video store.
Saturday morning was our traditional breakfast of french-press coffee and thick, hippie-style oatmeal. We headed out at 10:30 to investigate buying an amp before a jam session at Matt's around noon. The tiny instrument shop in our neighborhood, Peacock Music, didn't have what I needed so we drove up to Guitar Center. I hate this place on the weekends, it's unbearably loud with 20-something men doing their best rock star riffs. An hour later, I walked out with a new electric bass and all sorts of accoutrements.
We should have had a roadie to help us unpack all our gear at Matt & Amber's place. With Rob on uke, Matt on electric guitar and me on bass, we rocked out for two hours while drinking super spicy bloody mary's. Amber and I made a trip to fancy consignment shop, Cris, where I found a really lovely olive green DVF dress. At 5:30, we dropped them off in North Beach and went home to do some cleaning.
Margaret arrived around eight for dinner. We had drinks at the apartment and then went to Home around the corner. We got a nice table on the patio by the fireplace around 9:00. Between the three of us we ordered two salads (a caesar and the tasty iceberg wedge) along with a mushroom risotto and Neiman Ranch pork chop (Rob said it was the best he'd ever had):

Note the lovely shiner.
After dinner, we were craving Peeps and discovered the dangers of having a 24-hour grocery store down the street during Easter candy season:

We got to bed around 12:30 and woke up the next morning at 7:15, actually 6:15, due to some daylight savings confusion. Tea and coffee with Margaret before she had to leave at 8:30 for work (she works at Therapy in the South Bay). I returned to bed after she left, starting to feel sore from climbing on Friday. Rob brought me the Sunday Times and I didn't re-emerge until 11:30.
We did a much needed big re-stocking trip to the grocery store around noon with granny cart. Whole wheat turkey sandwiches with pears and carrots for lunch. A long jam session in the afternoon to help break in the bass. Dust in the Wind is our latest hit (you have to watch the video just for the ridiculously bad hair).
Much needed laundromat run in the afternoon along with some dish washing and linen changing. We had planned a bike ride but were both too sore from Friday. I made spicy vegetarian chili for dinner.