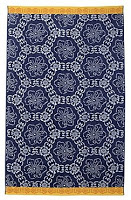 Sale Alert: Stylish Beach
When I was little, our family spent a week each summer at a funky beach hotel in Santa Barbara. Our love for the beach was only exceeded by our almost-translucent paleness.
So, a simple trip to the water was a production. No less than four beach umbrellas, five folding chairs, 7 towels, 4 sand-logged New Yorkers, 3 hats and two bottles of sunblock accompanied us back and forth to the sand each day. A sunburn was the ultimate vacation shame.
I haven't yet amassed my own beach collection. When Rob and I go, it is usually by bike and with a heavy sweater for those NorCal ocean winds. I think I should start with these beautiful beach towels from Martha and a big umbrella to match.